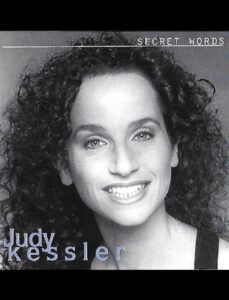 CD of 9 original songs by Judy Kessler
On Jazz Café Au Lait Music
Titles:
1. She's Back In Town
2. Psycho Sal
3. Coffee Cup
4. Bird
5. Snow
6. You Win
7. Secret Words
8. Portuguese Man
9. Little Sister
Judy Kessler –  piano and vocals
John Colianni –  piano on Coffee Cup, Psycho Sal and Portuguese Man
Dave Dowling –  acoustic and electric guitar
Wayne Roberts – acoustic and electric bass
Yusef Ali – drums and percussion
Produced by John Colianni
Recorded and mixed by Dave Dowling at Turco Recording Studios,
                                                                               Baltimore, MD
Mastered by Manfred Knoop at Knoop Music, River Edge, NJ
Dedicated to the memory of my mother.