With several decades of experience, Judy can easily record any piano accompaniment desired for singers and instrumentalists.
Sightreading: Judy's strong sightreading skills means preparation is fast and rehearsals flow effortlessly. Less time in the studio saves you money!
Transpositions: Each vocalist's unique range requires this critical service. The ability to transpose a song  into any key is a quality  that will be appreciated by many vocalists.
College auditions and competitions: If you are a vocalist or instrumentalist who needs a professional piano accompaniment for a college audition or competition, look no further.
Arrangements: If you are a songwriter who would like assistance in creating  and recording a professional musical arrangement for your song, I can help.
Instrumentation: acoustic piano, electric keyboard, ensemble.
I have done recording work for famous people, such as Bobby Short and Jenifer Holiday, as well as many  other talented  individuals.
Recording project for Bobby Short in 1998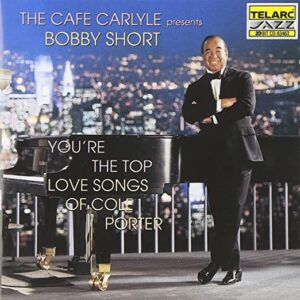 Bobby Short (1924-2005) was   one of the consummate NYC cabaret singer pianists. He  had a 2nd home in Paris, France. It was  there that he discovered a handful of unpublished songs by Cole Porter.  The handwritten manuscripts were originally given in 1998 to a friend of mine who is a brilliant jazz pianist. However, my friend turned over the playing and first draft of recording to me, as I was more fluent at sightreading. He handed it back to Mr. Short and , Bobby Short recorded "You're the Top:The Love Songs of Cole Porter" in 1999 on  the Telarc Jazz label. With the opening song being "C'est Magnifique", there is a certainly a chance this came from these  informally recorded unpublished Cole Porter songs.