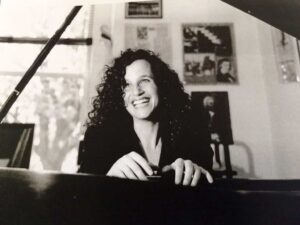 I have been writing music since I was in elementary school. At that young age, I would write little songs about my dog, guinea pigs, a horse or my goldfish. Or I might write a funny poem about an annoying classmate at school and then put it to music with angry chords. That always made me feel better and it was a productive way to channel hurt or angry feelings.
As a preteen, I began singing in my  Temple's  Junior Choir. I was intrigued by the sounds of the sad minor Hebrew melodies.  At home, I would write out the melodies of these songs and create a musical setting that emulated some of the textures I would currently be learning in my classical books.
In later teen years and beyond, I wrote dozens of love songs. Infatuation, drama, heartbreak, scandal — you name it, I wrote it.  Years later, when I moved to be closer to New York City, I found someone to arrange my best original songs, and produce these into a jazz/pop style. We went into the studio with wonderful musicians, and after weeks of hard work, I had my first CD, Secret Words. It was initially sold at Tower Records, Barnes and Noble and Borders Books. Now it continues to be sold online through iTunes, Amazon, and other entities.
Throughout my career, I have also improvised or written music for dance classes, shows, and as collaborations with my students. Read some testimonials.
I have written compositions in many styles:  Jazz, Country and Western, R and B, Classical, Ragtime/Stride, Latin and blues.
More recently, I wrote two suites, The Chanukah Suite and The Passover Suite. They are each in 5 movements, each movement based on a well-known song from that particular holiday. The aforementioned musical styles are embodied in these  two works. It brings a very modern, energetic feeling to these ancient songs. Whenever I perform them, the audience is quite enthusiastic. I am happy to say they are now available for purchase.
High praises for Judy
I had the pleasure of meeting Mrs. Judy Kessler over 11 years ago when a friend recommended her as an accompanist for my show. This was the start of an ongoing professional relationship that has been not only rewarding but FUN! Judy and I have taught vocal classes together and have worked  as a team at Camp Habima, our Performing Arts Conservatory camp for 6 years. Judy has served as our musical director and always is a pleasure to work with. 
She is a seasoned educator and performer.  I know I can count on her for just about anything musical, as her skills and personality are TOP NOTCH!!
She's very comfortable playing a multitude of styles of music and is a fabulous composer and arranger. She plays with great emotional and is very passionate about her craft. 
All this is very important but what i enjoy most about working w/Judy is her pleasant,  easy going personality. She's very patient with children and always has unique exercises to not only enhance their skills,  but also make everyone laugh. 
Judy is very thoughtful, sweet and a wonderful person!!
With full confidence I've recommended her and will continue to do so as the versatile,  professional pianist she is!! I look forward to many more fulfilling years working alongside Judy Kessler, as she is right up there with the best in her field!! 
My "Go To" Music Director
Judy Kessler has been my go to music director for over fifteen years. I can always count on her vast expertise, professional demeanor and warm personality, knowing how all of these components will enhance any professional caliber musical and/or theatrical endeavor. As music director for the Oh! Manuyot drama division of Camp Shalom, formerly at the JCC in Clifton, NJ, Judy expertly played both original compositions as well as contemporary and classical songs from a variety of genres for our summer camp musical productions. As a result of our years working together in this capacity, Judy was an obvious first choice as musical director at Camp Habima for the Performing Arts when I transitioned to creating a new summer conservatory program for middle and high school aged girls in 2015. Additionally, as a teacher of theater in the public schools, I consistently prioritize including Judy's accompanist fee as an integral part of my production budget.  Judy shines brightly as a pianist, a gifted performer in her own right, effortlessly bringing beloved Broadway scores to life while simultaneously training young voices to make them their own.